De Crescenzo takes commanding lead for UCI Women at Tour of the Gila after Stage 2
Lauren De Crescenzo (Cinch Cycling) rode away from the UCI Women's field at Tour of the Gila Thursday and didn't see her competition for 67 miles until they crossed the finish line, causing a shake-up in the overall standings and putting riders on notice that she's the one to beat.
The 31-year-old now has the red leader's jersey and a significant time gap of two minutes and 32 seconds going into the race's midpoint.
"Today was good training for Unbound," De Crescenzo said. "I've done the Gila I think two other times, this is seven years ago, eight years ago, and it's amazing to come back and take the win on the Inner Loop."
De Crescenzo suffered a traumatic brain injury in 2016 when she crashed at the San Dimas stage race in California but worked hard toward recovery and getting back on the bike and into top form. She has since won several national endurance gravel races including Unbound and SBT GRVL. She credited her teammates for setting her up for victory.
"I had some bad luck yesterday at the base of the Mogollon," De Crescenzo said. "I had to get a spare bike because my bike kind of exploded, and I had to get out on the course today, because I was pretty angry from yesterday. I came into it super motivated, and my team was behind me all night, all race. And I felt good out there. It was very, very difficult, but compared to something like the 200-mile races, it was easier to conceptualize, 'oh, I have 20 miles to go, that's not that far'."
When the race kicked off, teams endured an extended neutral period due to one rider having a mechanical during the rollout, which gave them only four miles to get organized before the first sprint.
DNA Pro Cycling Team, looking to protect their green jersey leader Maggie Coles-Lyster from Canada, led out the first intermediate sprint, delivering Coles-Lyster across the line first, with Emma Langley (Team EF Education TIBCO-SVB) and Daphne Karagianis (DNA Pro Cycling Team) getting second and third, respectively.
The pace stayed high after the first sprint, stringing the group out toward the turn to Pinos Altos, and De Crescenzo decided to make her move – at just seven miles in.
Lauren De Crescenzo rides away from her competition
Langley reacted, getting as close as five seconds to De Crescenzo before hitting the base of the first queen-of-the-mountains climb. Langley fell to 45 seconds behind. Krista Doebel-Hickok (Team EF Education TIBCO-SVB), took third-place QOM points, and Emily Marcolini (3T/Q+M Cycling Team) from Canada landed in fourth on the QOM. Doebel-Hickok had a 21-second overall general classification lead with Marcolini in second heading into Stage 2, while De Crescenzo was two minutes and 58 seconds behind first place for GC and in 13th place.
But De Crescenzo's attack on the first major climb made the selection in the main field, which whittled down to about 15 riders, representing much of the peloton: Team EF Education TIBCO-SVB, Pato Bike, 3T/Q+M Cycling Team, DNA Cycling Team, Instafund Racing, Amy D Foundation and Cinch Cycling.
The first descent through the Gila National Forest split up the field and the chasers, and Langley closed the gap to De Crescenzo to 20 seconds. Anet Barrera (DNA Cycling Team) from Mexico also started a solo pursuit.
By mile 21 and the second QOM, De Crescenzo's lead had grown to two minutes and 15 seconds. Langley was one minute and 45 seconds ahead of the main field, and Barrera had been re-absorbed, but crossed the line in third for the QOM. Doebel-Hickok took fourth.
The pursuit for QOM points split apart the chasers and left a group of 10 to pursue De Crescenzo. The long, twisty descent saw De Crescenso's gap grow to three minutes and 25 seconds when the field came through the second intermediate sprint. Diana Carolina Peñuela (DNA Cycling Team) picking up second-place points with Langley in third.
A group of riders chases De Crescenzo.
Wind started to pick up as the field hit the flats, but De Crescenzo only drove her gap out larger. Team EF Education TIBCO-SVB chased hard to try to keep Doebel-Hickok in the leader's jersey, but the gap remained at three minutes at the base of the last QOM of the day.
With 25 kilometers to go, Langley drifted back from the chase group, and the gap grew to five minutes through the last QOM. Doebel-Hickok was second over the top, Peñuela took third, and Kira Payer (DNA Cycling Team) took fourth.
"We tried rotating through the valley, but the wind was picking up and making the [turn onto the] feed-zone climb," said Maddy Ward (InstaFund Racing). "We were gaining on her a little bit, but the descent back down to Fort Bayard was so windy that everyone was like, 'she's gone'."
De Crescenzo's headed back toward Fort Bayard and drove hard through the finish to maximize her time to a two-minute-and-32-second overall lead on the field and into the red leader's jersey. Doebel-Hickok crossed the line in second, and Ward took third.
De Crescenzo extends her lead in her solo victory
De Crescenzo's long solo day also mopped up enough sprint points to take the green jersey. Barrera's brave climbing and chasing gained her the white jersey for best young rider, and Doebel-Hickok retained her queen-of-the-mountains polka dot jersey.
"I went out really enthusiastically for the stage and knowing it would be a good day to steal the best young rider jersey," Barrera said in Spanish. "Our goal is always for the general classification for Diana Carolina, but the stage ended up with us getting the white jersey, and I'm happy for that because it's a way I also can represent our team."
Anet Barrera stands on top of the podium with her "Best Young Rider" jersey
Tomorrow's 16.15-mile Tyrone Individual Time Trial likely will shake up things for the overall standings as teams prepare to strategize for the final two days of racing.
"My teammates were super strong, and congrats to the winner," Doebel-Hickok said. "She obviously has really great form right now, and I'm nothing but grateful for how my teammates rode. I don't think we made any mistakes; she just had a really impressive ride. We came to play every day and give our best. That's what we've been doing, so I'm really proud of the girls."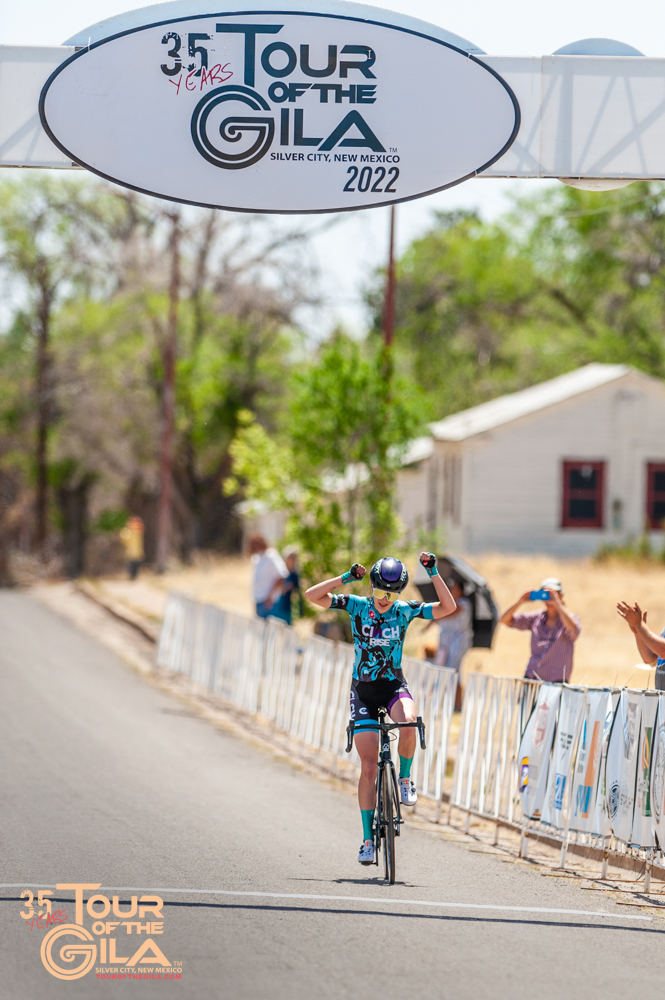 Lauren De Crescenzo crosses the line with a hefty lead on GC
Doebel-Hickok moves into second place for GC
Stage 2 results:
Lauren De Crescenzo – Cinch Rise

Krista Doebel-Hickok – EF Education – Tibco SVB

Maddy Ward – Instafund Racing
GC Standings After Stage 2:
Lauren De Crescenzo – Cinch Rise: 6:35:59

Krista Doebel-Hickok – EF Education – Tibco SVB: 6:38:31

Austin Killips – Amy D Foundation: 6:39:34
QOM Standings After Stage 2:
Krista Doebel Hickok – EF Education – Tibco SVB: 21 pts

Lauren De Crescenzo – Cinch Rise: 15 pts

Emily Marcolini – 3T/Q+M Cycling: 13 pts
Sprinter's Jersey After Stage 2:
Lauren De Crescenzo – Cinch Rise: 20 pts

Maggie Coles-Lyster – DNA Pro Cycling Team: 13 pts

Krista Doebel-Hickok – EF Education – Tibco SVB: 12 pts
U25 After Stage 2:
Anet Barrera – DNA Pro Cycling Team: 6:42:13

Kira Payer – DNA Pro Cycling Team: 6:43:47

Kyleigh Spearing – Cinch Rise: 6:51:21
Team Classification After Stage 2:
DNA Pro Cycling: 20:04:41

EF Education – Tibco SVB: 20:08:34

Instafund Racing: 20:25:54